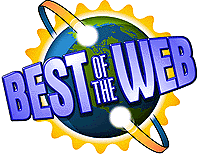 So, how do you get one single "best" website on the Internet? There are almost as many different websites out there as there are different people using them. Different people are drawn to different things. What I might think is the best is not necessarily what you will think is the best. Our personal preferences and style, even our age and gender, can influence what we consider to be "the best".
A quick Google search for the phrase "the best website on the Internet", when run at 6:17pm on Monday 16 July 2007 (New Zealand Time, which is GMT +12:00) revealed 734 results. The top result was an article about why a particular person thinks that Wikipedia is the best. The second result was a poll that allowed users to vote for the best website of 2005, and listed options including AOL, Yahoo, MSN, Google, Amazon, and eBay. The third is an article about why Associated Content is the best website ever, and it just happens to be published on the Associated Content website. Talk about self promotion!
The Internet is constantly evolving. The Associated Content claim to be the "best ever" is an interesting concept. It relates to the fact that I specified the exact time and date that I ran my Google search above. By the time you read this article on Helium, if you were to do exactly the same Google search that I did, you may well get different results. I remember using the Internet back in the 1980's, and we all thought that Altavista was just the best search engine ever. That was before the advent of Google. What will tomorrow bring for the ubiquitous Googleplex? Are you, my reader, currently working on a simple search algorithm in your spare time as a hobby, tinkering with C#.NET, which will become the next big thing in search engines?
Being an early adopter of new technologies, I see a lot of what is on the horizon on the Internet. Currently, the big buzzwords for things that I am particularly interested in are: social networking, web 2.0, communities, tags, web presence, online identity. These are the the things that I personally am interested in right now. Oh, by the way, that changes too. What we like today will not necessarily be the same as what we will like tomorrow. Moods change, attitudes, priorities, they all change in lives over time. I know some very young Internet users who would say that the best website ever on the Internet is Nickelodeon Games, featuring the characters of Jimmy Neutron and Spongebob Squarepants. I bet when they're 18 years old or so their view of the "best ever website" will be somewhat different.
Right now, today, for me personally, the best website on the Internet is one called Zude (www.zude.com). It is an emerging new social networking and personal web presence site that is built using a revolutionary new development platform called Open5G by Fifth Generation Systems (www.open5g.com). It features freeform drag & drop, allowing users to place any type of content anywhere on their pages. The users, known as "Zuders", are allowed to create unlimited pages within their own free account,also called a "Zudescape", and can upload unlimited content to them. Zude's motto is "Feel Free" and it lives up to this motto by providing a real sense of freedom in design options. I can add any content that I want to, be it videos, music, images, text documents, links, even embedded pages from other websites. I can place these objects anywhere that I like on my pages. Talk about freedom! It sure beats having to place your content into fixed, predefined boxes like "About Me", "I'd like to meet", or "Interests". I can have everything straight and orderly, using precise positioning by specifying pixel location from the top and from the left of the page. Alternatively, I can just drop things onto my page where-ever, having things overlap, and using varying amounts of transparency so that you can still see the objects below. I can also easily control who has access to each page, by either specifying a password or by creating an access control list of authorized users. The options are limitless, and the opportunities for self expression leave you feeling as free as Zude's motto says.
All of the expected features of a social networking site are there, including a guest-book and a friends list. I can customize my pages using templates, and can add Javascript and Flash objects and widgets to the page. Every object can have tags attached to it, which can then be used to search by. One of the best features that I have found is that Zude gives users access to the <HEAD> block of each page, allowing a wider variety of scripting options than many of the currently popular social networking sites.
As I say, for me, right now, this is the best website on the Internet. It really is one to keep an eye on, as I personally believe that it will soon overtake the current leaders in the social networking space, just as Google overtook Altavista in the search space. With the variety of objects that you can place on a Zudescape page, including embedding pages from other websites on your page, Zude truly has the potential to become all things to all people.
Tags: best, social networking, website, zude
Current Location: At home
Current Mood: geeky